About a year ago a friend told me about floating and I thought she was crazy! I couldn't imagine what she was talking about. I thought, so, I'm supposed to lie naked in a tank filled with salt water and listen to music? For 90 minutes? Ummmm, okay. You go ahead. Let me think about it.
Fast forward a few months. I was tired, achy and in desperate need of some serious relaxation. I had started a new workout regimen and I had just survived summer with my kids. I deserved something to feel better and get my mind and body back on track. I thought back to that conversation with my friend a few months prior and decided I should try floating. I figured, let me see what all this fuss is about!
Float Harder is located on Washington Ave., right off the highway. It's really easy to get to and there is plenty of parking. When you enter the facility, you are immediately greeted by a cozy and inviting atmosphere. Whichever staff member greets you will treat you warmly and inquire as to any concerns you might have. You will pick your music (I prefer to use their music so I don't have to fumble with my phone. The meditation track is my favorite). Then you can pick what color you'd like your room or pod to be (Room or pod? More information to come. Keep reading!). I chose a different color each time, but I always ended up opting for no lights at all. Pitch-blackness was definitely the best for me. I have always been ultra-sensitive to light, even with my eyes closed, so removing any light stimulation considerably added to my relaxation. The great thing is, it's your choice! Once you've chosen your music and light, it's time to start floating!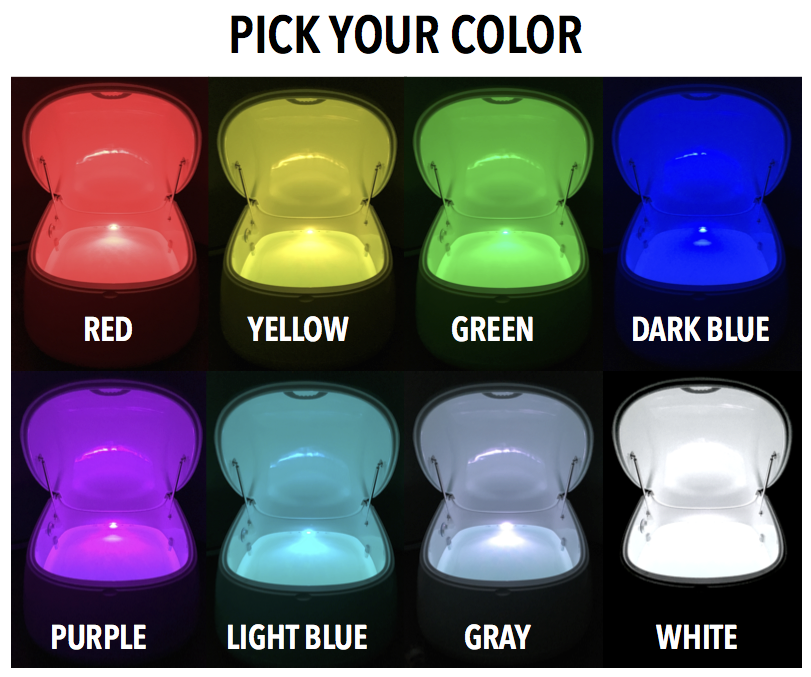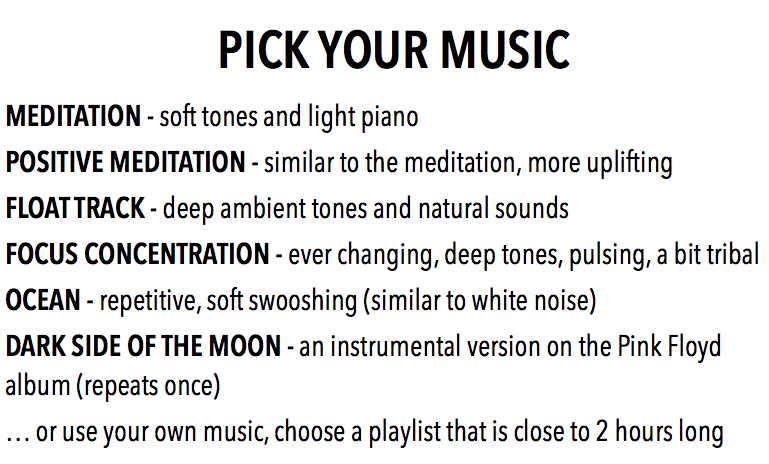 You are led to your private room, complete with shower and showering supplies (using their products ensures the stability of their powerful sanitation system, and, hey, one less thing to bring with you!). Now you are ready to immerse yourself in the 93.5 degree water. This skin temperature is warm enough to keep you from becoming cold, yet is cool enough to limit sensation, as floating is all about sensory deprivation for maximum therapeutic results. Couple this temperature with the humid air in your room or pod, and you will be toasty. At first I was worried about being chilly, but that was definitely not a problem.
I mentioned earlier that you have to choose either a float pod or a float room. The pod is a clamshell type enclosure that is 7 feet long and 4 feet wide. You can control how open or closed the hatch is. I prefer mine to be closed all the way to get the most benefit from darkness and warmth, but you might prefer it to be open a bit, or open all the way. Again, it's your choice! It might take a couple of trips before you decide what is just right for you. If you feel that the pod is too closed for comfort, you can choose a float room. This is an actual small room inside of your private shower/prep room. You enter after your shower, close the float room door behind you and begin your floating journey.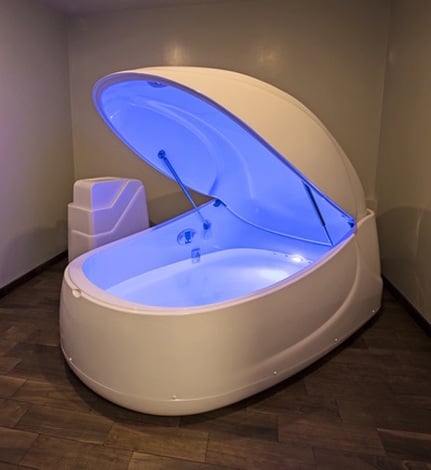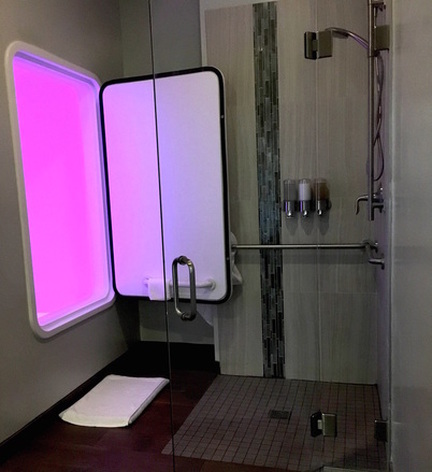 Whether you choose a pod or a room, their music or your own (or none!), light or no light, you'll be floating in about one foot of water in which 1,000 pounds (One. Thousand. Pounds. Yikes!) of Epsom salt has been dissolved. Seriously, you can't NOT float. I tried. It was impossible. You will float. And you may find yourself falling in love with it just like I did.
While it took me a little while to get myself comfortable and to get my mind to stop racing, once I finally did, it was heavenly. You simply float with hardly any gravity pulling at your body, little to no light stimulation and very little to no sound bombarding your ears, allowing your senses to recover from the daily grind and allowing your muscles to begin making necessary repairs without the strain and stress of holding your body up. To top off the experience, your body is able to absorb loads of magnesium, which all bodies need (and in which most adults are deficient). Magnesium has been shown to improve calcium absorption, lessen symptoms of PMS (sign me up!) and might even help prevent diseases such as diabetes, asthma and osteoporosis. It is a pretty tall order to find any other body treatment that gives you so many benefits.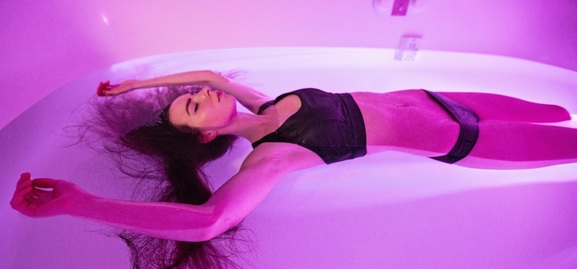 ​
As I lulled in and out of consciousness, 90 minutes seemed to fly by. When a gentle voice came over the intercom telling me my session was over, I wanted more! Alas, I groggily stepped out of the warm, womb-like experience, and proceeded to shower the salt off and return to the "real" world. As my senses started to reawaken, I began to realize how refreshed and invigorated I was. By the time I was finishing up in the post-float room (where one finds hairdryers, sinks, mirrors, Q-tips, etc.), I felt completely renewed. I couldn't wait to call my husband and tell him how good I felt (and put in a call to my girlfriend and tell her I no longer thought she was crazy). 
The combination of almost zero gravity, limited sensory stimulation and the rapid absorption of magnesium for 90 full minutes was just what my tired, achy body needed. My mind and body were both so relaxed and I found it easier to focus. My muscles were so loose, they felt as if I had just had a 90-minute massage. My aches and pains were drastically lessened. My mood was significantly elevated. I suffer from pretty severe bouts of depression, so finding non-medicating ways to boost my mood and energy is always a positive. To put it simply, my overall well-being was greatly improved and I finally felt like I had found that special something to help heal my mind and body.
I was hosted at Float Harder two more times within the next month so as to give my readers the full scope of the floating experience. Each time I learned something different: in addition to knowing I prefer no lights and their provided music, I learned that I prefer the pillow to no pillow as it helps my neck relax further, I like no earplugs (I just use the provided rinse of vinegar and water solution before I leave so as to avoid a crackly inner ear) and I definitely prefer the pod over the room to minimize any disorientation in the darkness. I would highly recommend going at least 3 times to try out the different options for yourself so that you can figure out what works best for you. Every mind and body is different.
Perhaps the most important lesson I learned in this process (besides the fact that I NEVER want floating out of my life!) is that even when the environment is just right, even when it seems like everything is set to go perfectly, some days can still be harder than others to relax. Sometimes there is a lot on the brain and a lot for the mind to process, making it seem quite difficult to benefit wholly from the float. But keep trying. You have 90 minutes to encourage your mind to slow down. You have 90 minutes to curb the racetrack of thoughts and emotions. As you work at this more and more, it will become easier and easier. Even when your mind is struggling, your body is still reaping amazingly healthy benefits.
There is a reason professional athletes utilize floating facilities, especially during high pressure and high stress competitions: it works. Floating offers so many benefits to every person; it's worth giving it a try. 
I am so thankful to my friend for telling me about floating in the first place. I can't wait to go back again!
For more information about floating, visit www.floatharder.com. And don't forget that gift certificates to Float Harder are great year-round! Need a gift for someone special? Buy them a float package. Does your spouse need a gift idea for you? Ask for a float package! Need a gift for a teacher or other professional in your life? A gift card to start him or her on this unique relaxation and healing journey will have you in their good graces. 
However you choose to float, enjoy it, savor it, and do it again! Happy floating!